Building Bridges
Building Bridges
24 January 2017 (by admin)
Design Technology in Key Stage 2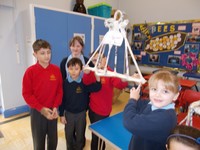 Recount DT Morning
Mrs Barnes explained that we were going to how to make bridges out of newspaper. We had set criteria, which we were going to be marked on. This included: how strong our models were, how we worked together as a team, how well we planned our models and how aesthetically pleasing they were. My group (which is Mathew B) went to Year Five to decide which bridge we should make. After voting, we decided that we were going to build something similar to the Tower Bridge (which is in London).
We started by making the stabilisers at the bottom of the bridge, then as we were developing the bridge Oliver started to build the road as we did more stabilisers. I was so worried that it was going to fall over that I felt my heart pounding. The other Year 6 and I came up with an idea of having a square based pyramid attached to the sides of the road, everyone voted for that idea (mainly because there was no other choice). So we sellotaped it to the side of the bridge, after that we added some accessories like a clock, our name and a car and traffic lights each side of the bridge. Then the tension grew as Mrs Nightingale went to the next group and the next. Eventually, she came to us and my heart was pounding hard, she gave us lots of praise. We went outside to play after all the hard work.
In assembly on Monday, the results were announced; we were delighted to have come second.
By Ben Morris