Important points in our timetable:
PE on Tuesday and Wednesday


Swimming kit on Monday

Library on Friday

Spelling tests on Monday

Times table tests daily

Reading records checked on Tuesday - 4 signatures needed!

Don't forget!
Our timetable is always subject to change.
PE
SpT1 - Our focus sports are swimming and netball this half term. Luckily for us, we also have additional rugby and maths sessions for 5 weeks from London Irish Rugby Club.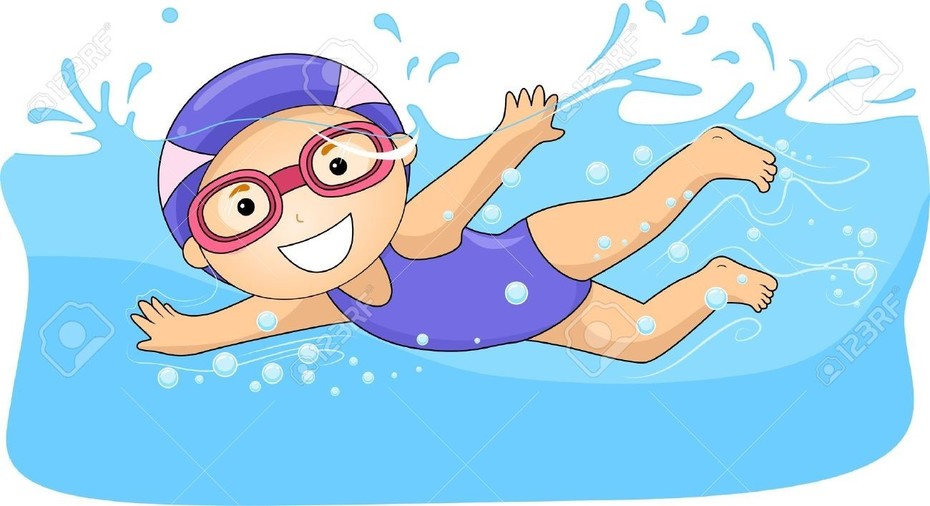 SpT2 - Then we will be continuing to work on our swimming skills as well as developing our attacking and defending skills in football.

PLEASE REMEMBER YOUR PE KITS!
RE
During RE this term, we will be exploring these questions:

Is a holy journey necessary for believers?
Should believers give things up?
Music
Initially, we will be learning an anti-bullying rap. We will learn to sing the rap as well as perform this using instruments and body percussion. Then, we will create our own rap songs linked to anti-bullying by creating the lyrics and composing the music to the rap song to perform. This links very closely to our PSHE learning this half term too.
French
SpT1 - First of all, we will be developing our vocabulary around pets and animals.

SpT2 - Then the focus switches to exploring food and creating menus.

History/Geography
History - we will be starting off the term looking at the Anglo-Saxons and Scots.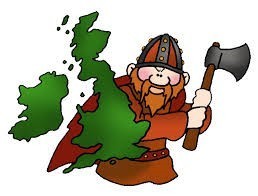 Geography - after that, we will move onto exploring the question: where does our food and energy come from?

Computing
Headphones at the ready! We're going to be using lots of different online musical instruments to create repeating patterns and a mini-orchestra. We'll need to evaluate each instrument and create some 'tunes' to review as a class.
PSHE
We will be discussing bullying, what it means, what it might look and feel like and what to do if bullying occurs. Also, we will find ways to be kind to our friends and we will be creating anti-bullying raps during our music lessons.
Art/DT
Art and DT are very intertwined this term and our focus is textiles where we will be creating a piece of bunting for the Year 4 classroom, demonstrating our sewing skills. We will also be looking at different artists to mimic their styles and using a variety of mediums including pencils, charcoal and water paints. In addition to this, we will start to explore horticulture in preparation for the summer term.
PLEASE REMEMBER YOUR ART APRONS!
Science
We're learning about teeth, digestion and food chains. We'll be starting with some interactive digestion activities and fun facts to put us off our dinners! Then we'll look at our dazzling smiles whilst investigating the purpose of all those different shaped teeth. After all that, we'll take a look at how other animals stay alive, their digestion, teeth and what they like to eat.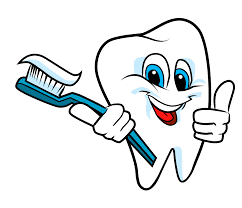 Our weekly timetable: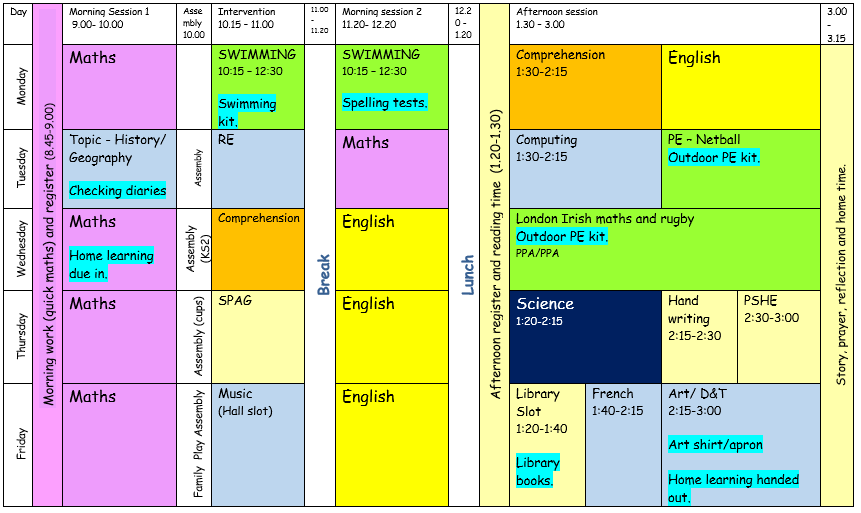 Maths at school!
This term we start off solving Roman numerals. Then we will take a look at measuring and data handling before working a little more on telling the time and division. There is large focus on understanding word problems and learning thier multiplication and division facts on a 144 sqaure. We are aiming to complete these out of order within 8minutes. Use the links below to help you learn your tables.

Maths at home!
Learning times tables would significantly support your children's learning at school. Reciting the times tables before breakfast or asking a few questions on the walk or drive to school will make a huge difference. Thank you for your continued support.
The links below can support your children's learning.
Times tables:
60 times tables grid ~ Answer Sheet
Mixed 144 times tables grid ~ Answer Sheet
144 division grid ~ Answer Sheet
General:
English!
In English, we are looking at mystery stories, poetry and newspaper articles. We will continue to look at how we can use different sentence structures for effect and how to punctuate speech accurately.
English at home!
Spelling and grammar are also a very big focus in Year 4, so please keep learning these daily.
Spellings:
All children are expected to know what all of these statutory words mean and how to spell them by the end of the year in preparation for upper KS2.
Click here for the statutory spelling list.
Spellings are tested weekly. Please support your children to learn their spellings. Here are some inspiring ways to help learn them.

Unusual ways to learn your spellings
Click on the links below to see your spellings list.
List A List B List C List D List E List F List G List H List I List J List K List L List M List N List O List P
Grammar:
Please use the links below to access different grammar sites that can support your children's learning.
Reading:
Read with an adult and ask them to sign your reading diary 4 times each week please.

A large proportion of the Year 4 reading curriculum looks at children understanding what they have read, predicting what will happen and the children being able to ask questions about the text.
Please find below some questions that might be useful as a starting point when discussing what you have been reading with your child.
What do you think will happen next and why?

Who is the main character and how do you know?

What are the main points in the text? Summarise what you have just read.

How does this character show their thoughts and feelings?

How has the author used a variety of sentence structures for effect?

Why has the author chosen this word? What effect does it have on the reader? Can you think of a better one?

What does this word mean? How can you find out?

Why has the author used a heading, bullet points and images?

What would you like to find out from this book? What questions would you like to ask?