Before & After School Club
We are very excited to announce a new partnership with Get Active for our Before and After School Club from this September. This brings many benefits to the school such as a wider and varied range of experiences that can be offered, with no restrictions on numbers to ensure all children can be catered for.
"Get Active Sports are delighted to be taking over the Breakfast and After School Clubs at St Sebastian's School from September 2015. Get Active Sports will run a multi sports and activity programme. We will give children the opportunity to participate in a variety of activities such as football, cricket, basketball, tennis, arts, treasure hunts, drama and much more". Rob Sherwood @ Get Active.
Get Active Sports are currently running over 250 coaching sessions a week to over 50 schools. They offer a variety of sports, skills and activities to keep your child healthy and active. Not only do our sessions teach your child the basic sport skills needed to improve their physical literacy we also offer essential life skills such as teamwork, leadership and confidence.
The activities offered are split into 8 core areas, further information can be found on the links below:

The Breakfast club (BC) will run Monday – Friday 7.45am to 8.45am and will include a small snack before school. The Full After School Club (FASC) will run Monday – Friday 3.15pm – 6pm and will include two snacks, we also have the option for a Shorter After School Club (SASC) which will run 3.15pm – 4.30pm and will include one snack.
Timetable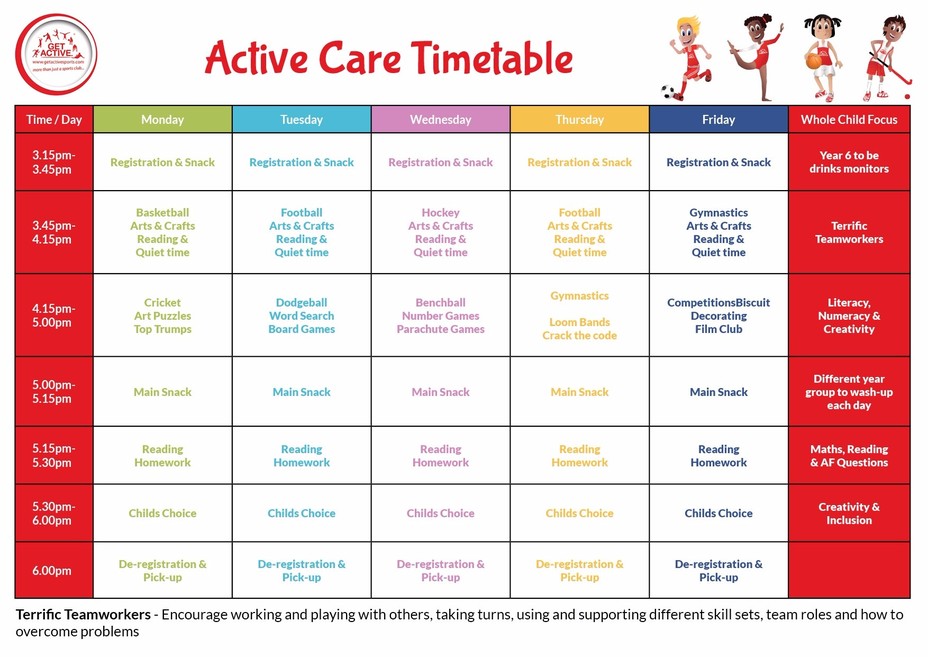 Price Guideline
Breakfast Club 7.45am - 8.45am £4.00
Short After School Club 3.15pm - 4.30pm £6.50
Medium After School Club 4.30 pm - 6.00pm £8.50
Long After School Club 3.15pm - 6.00pm £12.00
To book with childcare vouchers please email your childs name, dates you would like your child
to attend, time slots and child care provider to info@getactivesports.com.
Click here to sign up/book your place or alternatively contact Get Active on 01344 860 868 for
more information. If you wish to book on the day you must call the office to check there is space.
Get Active's background
Get Active Sports is a multi activity provider that has been running sessions across the South of England for over 10 years. Our Wrap Round Care Sessions are designed for children in Reception to Year 6. Get Active is proud to have staff, who have years of experience working with children, that can deliver to high standards activities such as arts and crafts, active play, reading, football, gymnastics, tennis, hockey and many other sporting activities. As well as this we will provide time and assistance for children to complete any homework or further learning and support where appropriate.
Further information can be found here